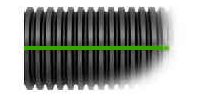 KNITTED FABRIC
For jobs where the protective covering is subjected to unusually rough installation and handling conditions:
PRODUCT DESCRIPTION
A flexible drain envelope that meets the needs of a wide range of soil conditions, installed with conventional drainage equipment. Polyester machine-knitted envelope that provides the needed water entry and sediment protection. SOCK weighs approximately three ounces per square yard. SOCK stretches to fit snugly over the tubing and gives the extra protection required by rough handling conditions. This fabric is inert to naturally encountered chemicals, acids, and biological degradation.
STANDARD FEATURES
ADS SOCK synthetic wrap materials --
Admit fine silt and clay
Restrain sands and coarse silts
Non-toxic, non-irritating
Inert in soil
Non-biodegradable
Resist alkalis and acids
Will not rot
Not affected by freezing or thawing
Continuous lengths up to 5000'
Available for drainage tubing sizes from 3" to 24" diameter
Factory applied ready for installation --
Lower labor costs in the field.
TECHNICAL INFORMATION
This fabric conforms to the minimum average property values listed in the following table.
PROPERTY
TEST PROCEDURE
AVERAGE ROLL VALUES
 
 
REGULAR
HIGHWAY
 
 
Typical Values
Typical Values
Mechanical
 
 
 
Fabric
 
Polyester
 
Weight
ASTM D - 3776
2.5 - 3.5 oz/yd *
3.5 oz/yd *
Mullen Burst
ASTM D - 3786
100-135 psi
135 psi
Puncture Strength
ASTM D - 4833
N/A
35 lbs
Hydraulic
 
 
 
EOS (AOS)
Corp-E - W 02215
30 - 60 US Sieve
40-50 US Sieve
Air Permeability
ASTM D - 4491
700 cfm / ft *
700 cfm / ft *
Flow Rate
ASTM D - 4491
700 gpm/ft *
700 gpm/ft *
Hydraulic Conduct.
ASTM D - 100
350 gpm/ft *
 
Endurance
 
 
 
UV Resistance
ASTM D - 4355
70 %
70 %
(Strength retained after 90 days exposure)
The values listed are minimum average roll values (MARV), unless otherwise stated.
January, 1998
(Strength retained after 90 days exposure)
The values listed are minimum average roll values (MARV), unless otherwise stated.
January, 1998
Applicable Specifications
SCS Engineering Standards Code 606
ASTM F405
ASTM F667
ASTM F449
AASHTO M252
AASHTO M294
THIS LETTER IS NOT A WARRANTY. ANY WARRANTY OF FITNESS FOR A PARTICULAR PURPOSE IS EXCLUDED AND IS THE SAME AS STATED TO ADS, INC. BY THE MANUFACTURE. INDIVIDUAL PRODUCT CERTIFICATIONS ARE PROVIDED ON REQUEST. THESE PRODUCTS ARE SPECIFICALLY MANUFACTURED WITH QUALITY KNITTED FABRICS BY BIG O FABRICS. THIS DATA SHEET SUPERSEDES ALL PREVIOUS DATA SHEETS FOR THIS STYLE AND IS SUBJECT TO CHANGE WITHOUT NOTICE. 11/10/99