Custom Built Application Equipment Design & Fabrication
Denver Industrial Sales & Service Co. (DISSCO) has over 50 years of custom fabrication experience. DISSCO specializes in custom sealcoating equipment and the design and manufacture of High & Low Pressure spray equipment for the Waterproofing, Roofing and Pavement Industries. Due to our experience as a coatings manufacturer and also as a specialty coatings applicator DISSCO has already engineered out the problems that other equipment manufacturers are now experiencing.
DISSCO can design almost any type of spray equipment for the application of almost any single component product from water thin products to heavy mastics that won't even flow out of a pail.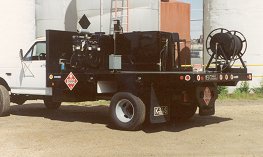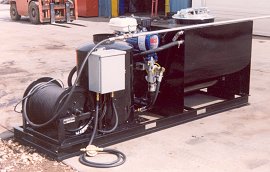 We take pride in building bulletproof equipment that will provide many years of dependable service.
What makes DISSCO different is that we not only utilize the proven GRACO and ALEMITE material pumping systems. We also engineer, design and build all the other support equipment that is necessary and combine it into a complete turn-key package to spray apply coatings in a timely and profitable manner.
DISSCO designs and manufactures its own power units, specialty tanks and mixers, heaters and hose reels and all other components necessary and assemble it all into a complete package either assembled onto a skid for easy mounting or mounted onto the customers truck or trailer as desired.
If your tired of working out of barrels or 5-gallon pails give us a call at 1-877-935-2485 and move up into profitable spray application.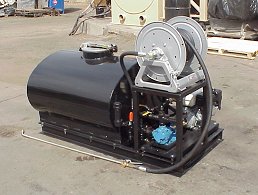 Application Equipment Repair Service
Denver Industrial Sales & Service Co. provides equipment repair service. DISSCO not only services the equipment we sell and manufacturer. We also service application equipment produced by other manufacturers.
DISSCO can service or repair almost any type of pump, pumping system, tank, mixing system, pneumatic and/or hydraulic systems.
With our fully equipped fabrication shop Denver Industrial Sales & Service Co. can do general welding repairs to performing complete custom modifications if desired.
Unfortunately, the only repairs DISSCO does not perform are small and large engine repairs. However, we can refer you to quality shops that can perform these tasks.
If you need service, repairs, or modifications to your application equipment, don't hesitate to give us a call Toll Free at 1-877-935-2485.