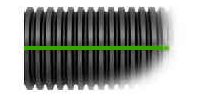 ADS Triple Wall Pipe- Twice the strength and toughness of ordinary pipe...at the same price!
UNIQUE MANUFACTURING TECHNOLOGY

The ADS Triple Wall Pipe has three bonded polyethylene layers for exceptional pipe stiffness.
A smooth inner wall is extruded with a corrugated structural core, which is then extrusion-laminated with a smooth white outer wall. This construction gives the pipe an unprecedented strength-to-weight ratio, and stiffness ratings at least double that of any competitive sewer and drain pipe.
PERFORMANCE ADVANTAGES
•Strong. ADS Triple Wall pipe is high-density polyethylene & will not crack or flatten under typical loads.
•Pipe stiffness
Minimum Pipe Stiffness per ASTM D2412
4" Diameter
3" Diameter
ADS TripleWall
22 psi
40 psi
ASTM D 2729 PVC
11 psi
19 psi
ASTM F 810 PE
11 psi
19 psi
• Durable. Excellent resistance to impact damage, abrasion, and corrosion.
• Light Weight. Virtually identical in weight to the same diameter corrugated HDPE pipe.
SUPERIOR ASSEMBLY DESIGN
Injection molded high density polyethylene coupling is spun welded to the pipe.
Consistent dimensions and tolerances
Deep tapered bell ensures tight fit
Pipe will fit any standard Sewer & Drain fitting (PVC, Styrene, etc.)
The most often seen use-cases include
Commercial buildings and residential homes: Because of its long life and ease of transportation, storage, and installation, it has long been used by architects and contractors in place of copper or another metal tubing. It is a particularly effective solution in areas where high resistance is required - for example, frequent earthquakes. 

In order to prevent frost damage or pavement deterioration due to unstable bases, driveways and sidewalks are installed under drainage systems. Water can be channeled away from the pavement with perforated drainage tubing installed in a bed of gravel. 

External and internal drainage: Typical applications for ADS pipes are in basements and under buildings where high ground levels require drainage to maintain the integrity of the building.
RESIDENTIAL DRAINAGE APPLICATIONS
Downspout runoff
Sump pump outlet
Foundation/footer drainage
Curtain drains
OTHER APPLICATIONS
Retaining Walls
Agricultural drain outlets
Irrigation
Parks, golf courses
SPECIFICATIONS
| | | | |
| --- | --- | --- | --- |
| Part No. | Size (1) | Style | O.D. |
| 462-0010 | 4" | Perforated, two hole (2) | 4.215" |
| 465-0010 | 4" | Solid | 4.215" |
| 362-0010 (3) | 3" | Perforated, two hole (2) | 3.250" |
| 365-0010 (3) | 3" | Solid | 3.250" |
10 ft. length standard, with one spin-welded coupling.
Standard 5/8" leach holes, 3.5" spacing, 120° apart. Three hole and other hole orientations available.
3" ADS Triple Wall Pipe not currently available in all areas.
Packaging
5 pieces per bundle (50 ft.)
90 pieces per pallet (900 ft.)
24 pallets per standard flatbed truck (21,600 ft.)