LineLazer
Professional striping contractors prefer Graco line stripers to deliver the highest quality and unmatched performance on airports, parking lots, road construction zones and more. From small walk behind stripers to large truck mounted systems, there is a Graco line striper to meet your needs.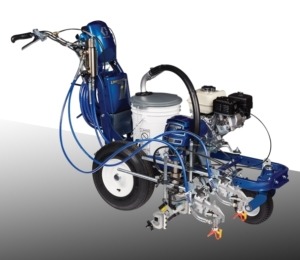 PROVEN QUALITY - Each LineLazer striper boasts Graco quality and dependability that you can count on. For more than 25 years striping contractors have turned to Graco.
MAXIMUM PERFORMANCE - Each LineLazer System is engineered to deliver maximum performance for completing jobs quickly and efficiently.
UNMATCHED PRODUCTIVITY - Superior design and innovative technology means you'll be getting the highest productivity in a line striping system.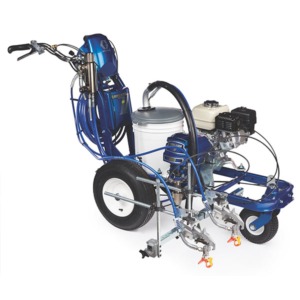 Rear Gun Bar Holder
Stable mounting location for straighter long line
Allows guns to be lined up with the rear axle for perfect curves
Endurance Pump
Industry-best pump performance in this field-proven design
LiveLook Display with SmartControl
Track, measure and control every aspect of your job
Screen tilts for visibility in all conditions
SmartControl provides consistent spraying pressure for perfect lines
EasyMark Gun Adjustment System
Simple to use Guide Mark System – Exclusive Graco design
Perfect gun alignment every time
Industry-first "G" Clamp System
EZ Align Wheel Syvstem
Simple way to keep unit tracking straight – Exclusive Graco design
Fat Track tire for added stability
Infinite radius lock-in for precise arcs
Advanced Vibration Reduction System
Eliminates vibration creating perfect lines – Exclusive Graco design
Field-proven performance