Proper crack preparation can more than double the service life of your crack sealant – saving you both time and money in the long run. Below are the tools to use to ensure that cracks are correctly routed and cleaned before applying sealant.
Model 30 Router™
Routing and sealing pavement cracks with a Standard Recessed Band-Aid (or over-band) can increase sealant life by over two-times that of non-routed and sealed cracks. There are four different pavement router models, many options and different cutters to meet your demands and exceed your expectations. The Crafco Pavement Router has been the industry best for thirty years.
Crack Vac™
The Crafco Crack-Vac is the environmentally effective way to remove dirt and debris from cracks, dust free. Cracks are cleaned and dirt removed from the job site as fast as the cracks are sealed.
Features and Benefits:
Compressed forced air loosens debris while powerful suction removes it from the crack
Increases crack sealing efficiency
Available as a truck-mounted skid or trailer-based
Hot Air Lance™
The Heat Lance is used to dry and prepare pavement cracks, potholes and distressed pavement surfaces for repair. Featuring separate valves which control the mixture of fuel and compressed air at the point of combustion.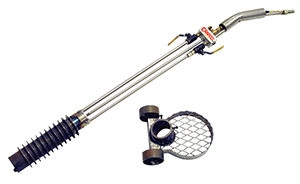 Features and Benefits:
Remove vegetation and flammable debris
Warm pavement in cool weather
Dry moist pavement prior to sealing
Velocity of up to 3000 ft per second
Smooth and blend the edges of pavement repairs