Pavement Routers
Model 30 Router™
Routing and sealing pavement cracks with a Standard Recessed Band-Aid (or over-band) can increase sealant life by over two-times that of non-routed and sealed cracks and there is no better machine on the market than the Model 30 Router. There are four different pavement Model 30 Router configurations, many options and different cutters to meet your demands and exceed your expectations. The Crafco Pavement Router has been the industry best for thirty years.
Dust Control Benefits
The Occupational Safety and Health Administration (OSHA) established new guidelines effective September 1, 2017, for workforce exposure to respirable silica (Quartz) particulates.
Occupational exposure to respirable crystalline silica occurs when cutting, sawing, drilling, and crushing of concrete, brick, ceramic tiles, rock, and stone products. It can also occur in operations that process or use large quantities of sand, such as foundries and the glass, pottery and concrete products industries. OSHA estimates that more than 2.3 million workers in the United States are potentially exposed to dust containing crystalline silica with nearly 90% of those workers employed in the construction industry.
*OSHA's Action Level (AL) limit for silica exposure is 25 ug/m3 per 8 hour day.
Crystalline Silica is a respirable particulate that is 100 times smaller than sand on the beach. Its chemical compound is Silicon dioxide (SiO2) and it makes up a majority of the planet's crust. It can be found in almost ALL mine, including coal as well as in brick and mortar, concrete, slate, granite, sandstone, tile, asphalt filler, roofing granules and soils just to name a few. It also can be present in residential settings such as countertops, wallboard joint compounds, paint, plaster, caulking and putty.
Health Effects
Crystalline Silica is categorized as a respiratory toxin that causes silicosis, COPD, and lung cancer. OSHA has also, linked occupational silica exposure to some forms of kidney disease and has conducted more than 50 peer review studies that link silica exposure and lung cancer in at least 10 industries.
Is your company ready for OSHA's new Action Level Limits for Silica emissions? What are you doing to protect your employees' health?
An independent study has proven that all airborne contaminant exposures for Crafco pavement routers were below occupational exposure limits (OELs). Crafco Dust Control Pavement Routers substantially reduced exposure to OELs vs. standard pavement routers, producing ~38% less respirable silica particulates and 50% less total dust.
Model 30 Router with Dust Control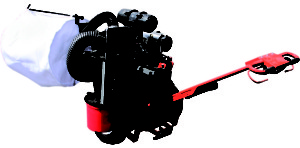 Features and Benefits:
Reduces dust by 96% vs. the standard model by emitting only 1.25% average dust opacity
Meets EPA Visible Emissions Standards
Improves worker safety due to less dust and flying debris, as well as providing clear line-of-sight
Contains the debris path for easier clean-up, saving time and money
Extends the life of the air filter and engine for additional cost savings
Self-Propelled Model 30 Router with Dust Control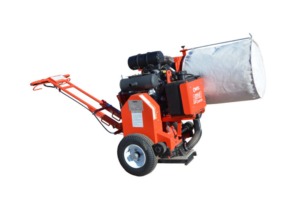 Features and Benefits:
All the available features and benefits from the other Model 30 Router configurations combined into one machine
The most innovative high-quality pavement router available today
Model 30 Router with Clutch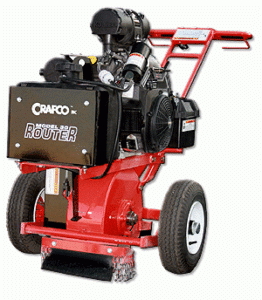 Features and Benefits:
Loaded with standard features that would be options on other machines, the Model 30 Router with Clutch is the most effective and efficient pavement router available
The Model 30 Router delivers unmatched crack-following accuracy
Model 30 Router without Clutch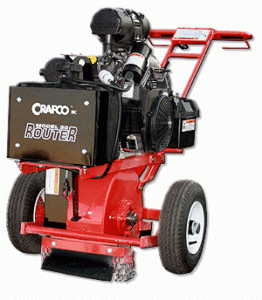 Features and Benefits:
Loaded with standard features that would be options on other machines, the Model 30 Router without Clutch is the most effective and efficient pavement router available
The Model 30 Router delivers unmatched crack-following accuracy
Without the clutch, releasing the handle completely shuts down the engine
Self-Propelled Model 30 Router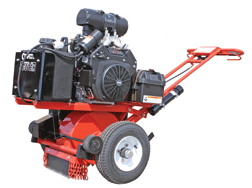 Features and Benefits:
Reduces worker fatigue by moving the router from one distressed pavement area to another, and it works especially well on roads with inclines or hills
Cuts down the physical strain associated with loading and unloading a standard router on and off a trailer for transport