CRACK N' TACK®
Portable Drum Pump
MAKES CRACKFILLING EASY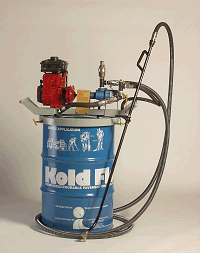 Speeds up crackfilling crews by improving your crackfiller application rate by 100% by eliminating the moving drums and time consuming pour pots. Just place the pump on your drum and start crackfilling.
HIGHLY PORTABLE
This small but powerful unit is easily set in place by two people. It needs no air compressor or electrical hookups, it is totally self-contained and powered by it's own gas engine.
EASY CLEANUP
The Crack N' Tack pump keeps the sticky mess off your people and equipment. The machine can simply be washed out with water under application and eliminates hazardous solutions.
MANY USES
This unit is capable of pumping Kold-Flo crackfiller, asphalt emulsions, water and other liquids.
SPECIFICATIONS:
ENGINE: 3 1/2 Horsepower Industrial Plus, with 6:1 gear reduction.
PUMP: Moyno 500, an Extremely Versatile, Low Shear, Progressive Cavity Pump.
VALVES: Two valves, One valve for operation and one to insure against contaminating
material when washing out.
CAM-LOCK CONNECTIONS: Hose connections designed for quick set up and break down.
Pre-set pressure relief valve for safe and steady operation.
User friendly, light weight, heavy duty construction.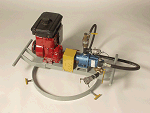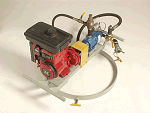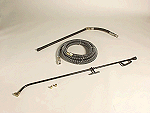 WARRANTY:
One year on workmanship with varying warranties on components.