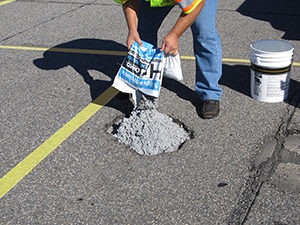 Crafco HP Concrete Cold Patch is a unique, gray color, cold applied, single component patching material. Use HP to repair potholes, spalls, cracks and other confined voids and distresses over 1 inch wide and greater than ½ inch deep in Portland Cement concrete. It can also be used to repair roads, highways, streets, airport pavements, parking lots, bridge and parking decks, sidewalks, walkways and floors. Unlike most other concrete patching materials, no mixing, heating or special installation equipment is required.
Benefits of HP Concrete Cold Patch:
Works in all weather conditions; wet or dry, cold or hot
Tested, approved, and used by utilities and states nationwide
Fast and easy to use, saving time and money
No mixing, mechanical compaction or tacking
Perfect for all concrete roads, airports, bridges, parking decks, sidewalks
Permanently adheres to concrete and patch will not release
No heating, mixing or tacking required
Open to traffic immediately after compacting
Content provided by Crafco, Inc.