DESCRIPTION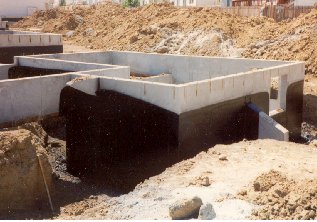 DISSCO 721 Non-Fibered Emulsion Dampproofing is a cationic slow setting emulsified bitumen designed for use as a below grade foundation dampproofing compound for dampproofing applications where it is desired to prevent dampness or moisture that may be present in below-grade applications from penetrating the foundation, thus preventing the damp feeling common to most basements. However, where a high water content is present the coating to be used should be upgraded to a true waterproofing compound. DISSCO 721 is suitable for use on almost any material such as concrete, masonry block, styrofoam block, wood, steel, plastic. DISSCO 721 is environmentally friendly containing no solvents. Ready to use. No mixing or thinning necessary. No heating required.
APPLICATION
DISSCO 721 is ready to use directly from the container. Surface to be coated must be clean and dry, free of any material which prevents proper adhesion. DISSCO 721 can be applied by roller, brush or spray with adequate airless equipment. It is recommended that masonry block be parged (cement grouted) prior to application.
APPLICATION RATES
For a one coat application, it is recommended that the DISSCO 721 be applied at a coverage rate of 1.25 to 2.0 gallons per 100 square feet of surface area with a dry film thickness of approximately 15 mills. For a two coat application, each coat should be applied at a coverage rate of 1.0 to 1.5 gallons per 100 square feet with a two coat dry film thickness of approximately 20 mills. The first coat should be allowed to cure for at least 4 hours before the second coat is applied. Do not apply when rain is imminent or when surface to be coated or ambient air temperature is below 40ºF (4ºC).
CURE TIME
Cure time will vary depending on weather conditions. Product will appear brown in color after applied and will turn black in color when cured.
DISSCO 721 PHYSICAL PROPERTIES
| | |
| --- | --- |
| Color | Black |
| Weight per gallon | 8.2 - 8.35 lbs. |
| Vehicle solids | 60 - 70% |
| Volatile vehicle | 30 - 40% |
| Boiling point | 212°F |
DISSCO 721 meets specifications ASTM-D-1227 Type III, Class 2
AVAILABILITY
DISSCO 721 is delivered ready to use and is available in bulk and in packaged sizes of 5 gallon pails and 55 gallon drums.
STORAGE
DISSCO 721 may be stored outdoors when ambient air temperatures are above 40ºF (4ºC). DISSCO 721 is water base and will freeze. KEEP FROM FREEZING. Clean tools with water immediately after use. If DISSCO 721 has cured, clean with mineral spirits or petroleum distillate.
CAUTION
May contain mineral spirits. Do not use near fire or flame. Use with adequate ventilation. Vapor harmful. Avoid prolonged or repeated contact with skin or breathing of vapor. Close container tightly after each use. Harmful or fatal if swallowed. If swallowed, DO NOT INDUCE VOMITING. Call physician immediately. KEEP OUT OF REACH OF CHILDREN.
WARRANTY
DISSCO warrants its products to be free of defects in materials, but makes no warranty as to appearance or color. Since methods of application and on site conditions are beyond our control and can affect performance, DISSCO makes no other warranty, expressed or implied, including warranties of MERCHANTABILITY and FITNESS FOR A PARTICULAR PURPOSE, with respect to DISSCO coatings. DISSCO's sole obligation shall be, at its option, to replace, or to refund the purchase price of, the quantity of DISSCO coating proved to be defective and DISSCO shall not be liable for any loss or damage, including incidental or consequential damages, arising from the use of DISSCO coatings.
In case of an EMERGENCY involving any DISSCO product please call:
Info-Trac @ 1-800-535-5053.

Denver Industrial Sales & Service Company
850 South Lipan Street
Denver, CO 80223
Ph. (303) 935-2485 · Fax (303) 935-6787
Toll Free (877) 935-2485