RAVEL CHECK® Rejuvenation/Preservation Liquid
RAVEL CHECK®rejuvenation/preservation liquid is an asphalt based emulsion with penetrating chemistry and asphalt resins designed with LOCK THE ROCK® technology to rejuvenate, preserve and restore asphalt based pavements. RAVEL CHECK asphalt rejuvenation/preservation liquid is designed to preserve and restore problem pavement areas. Easy to use, spray or pour RAVEL CHECK® liquid onto pavement damaged by weathering, oxidation, poor construction and snow plows. Designed for use on raveling, cold seam failures and oxidation. Apply RAVEL CHECK liquid to new asphalt pavements for extended pavement preservation.
RAVEL CHECK rejuvenation/preservation liquid repairs and preserves the life of existing pavement, roads and streets that are just beginning to show deterioration.  When used properly, it can help save roads that are in fairly good condition and prevent them from having to be repaved.  It can also be used in patch applications to prevent pothole formation.  For homeowners, RAVEL CHECK liquid can also be used on driveways.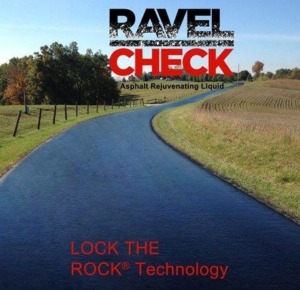 Pavement preservation applications include miles of road, walking/golf paths, parking lots and any paved area.
Optimizing rejuvenator performance for all applications requires ease of application with automated sprayer trucks, small sprayer apparatus including mini spray bars and spraying wands.
Pavement rejuvenators are a higher performance pavement surface treatment relative to sealers.  Sealer performance is limited to sealing the pavement.
Filling small cracks, sealing out water, blocking UV rays and reducing air (contains 21% oxygen) contact limiting binder oxidation.
RAVEL CHECK rejuvenator includes environmentally friendly solvents to effectively transport the maltenes to the oxidized pavement.
RAVEL CHECK Rejuvenation/Preservation Liquid Specifications
Ravel Check Rejuvenating Liquid Product Specifications
Tests on Emulsion Concentrate:
ASTM Test
Specification

Viscosity; Saybolt Furol Seconds (SFS) @ 77ºF

D-244
20 min 100 max
Specific Gravity @ 60°F
D-6937
1.01

Density @ 60°F, lb/gal

D-6937
8.42
Sieve Test %
D-6933
0.2% max
5 Day Settlement %
D-6930
5.0% max
pH
D-244
2-8
Tests on Residue From Distillation or Evaporation
Viscosity @ 275°F, Cps.
D-4402
1200 Cps max
Penetration @ 77°F Dmm
D-5
40 max
Solubility % in Trichloroethylene
D-2042
97.5% min
Asphaltenes, %
D-6560
16% min
Polar Compounds, %
D-6560
12% min
Saturates, %
D-6560
8% max
Maltenes, % (calculated)
D-6560
4% min
RAVEL CHECK Rejuvenation/Preservation Liquid Data Sheet
Pavement rejuvenators extend the sealer performance by returning the pavement surface layer to near new chemical and physical condition.  Starting during production, binder (asphalt) temperatures exceed 350°F, initiating the oxidation process.  In pavement, oxidation is the process of oxygen chemically reacting with pavement components, resulting in a different chemical structure.  The greater the oxidation, the greater the change in chemical and physical components.  Generally accepted in the industry is the loss of maltenes from the asphalt.  Maltenes are sometimes referred to as resins or heavy oils.  Rejuvenating asphalt to a pre-oxidized condition requires returning lost components and supplying additional asphalt.  In addition to maintaining the highest maltene concentration, Pavement rejuvenators are surface treatments and must provide a durable wearing surface.  Pavement flexing, vehicle maneuvering and unpredictable weather require adhesion, strength, flexibility, sealing, UV protection and environmental acceptability.
The negative environmental impact from older pavement surface treatments based on coal tar is becoming an ever increasing liability.
In several states and the District of Columbia they are already banned.  The major box stores no longer handle these products. The human health and environmental impact create too high a liability for those handling these products.
Contact Unique Paving Materials today to find out about how you can order a pail, drum or tote of RAVEL CHECK pavement preservation liquid today!
For further information, please contact:

Denver Industrial Sales & Service Company
850 South Lipan Street
Denver, CO 80223
Ph. (303) 935-2485 · Fax (303) 935-6787
Toll Free (877) 935-2485