2018 Crafco Patcher II For Sale, $54,775.00**

This Crafco Patcher II has just been rotated out of our well maintained rental fleet and is ready for immediate sale. This Crafco Patcher II is a 200 gallon Mastic Mixer for handing polymer modified, aggregate filled patching products for asphalt and concrete and installation of asphaltic plug joints.
The Crafco Patcher II is an oil-jacketed melter specifically designed to melt mastic sealants. The Patcher features digital controls to assure that mastic temperatures are held within specifications at all times. The Patcher has angled and staggered agitation blades which provide superior material agitation and aggregate suspension for a consistent material blend. A 6:1 gear box delivers high torque to eliminate agitation stall when using high-density material. This Patcher is equipped with many safety features, including an automatic shut-off on the lid to prevent injuries during operation. With an array of options – like the heated swivel chute – placing mastic is fast and easy.
WITH 90 DAY LIMITED PARTS ONLY WARRANTY, IN STOCK, FOR SALE,
Diesel-powered
Digital temperature controls
6:1 gear box
Easy clean-out
Safety shut-off lid
Oil-jacketed, double boiler
Overnight Heaters
Designed to handle an array of materials for both asphalt AND Concrete.
858 Hours since new.
Includes 2 irons and application tools.


Install Hot-Applies Mastic Sealants and Concrete repair materials

Use the Crafco Patcher II to install the Crafco Mastic One is designed for large cracks and distressed surface areas too small for re-paving. Ideally used to fill distresses. It is a versatile hot-applied, pourable, self-adhesive ridged asphalt binder containing selected aggregate to ensure good load bearing and skid resistant characteristics. Mastic One is compounded with standard weight aggregate.

Mastic One is a superior repair mastic because:

It does not require compaction to achieve 100% density
It is flexible and can withstand weather, traffic, and thermal movement
It is waterproof and provides an air-tight seal
It adheres to both asphalt and concrete surface.


TechCrete™

TechCrete by Crafco can also be installed with the Crafco Patcher II, Crafco TechCrete is a hot-applied repair mastic sealant, aesthetically suitable in all concrete pavements, and is used in sealing wide cracks and joints, as well as repairing a large variety of pavement distresses.

TechCrete benefits include:

Resists cracking, delamination, and spalling
It is flexible
Supports heavy loads
It is long-lasting with proven service greater than 10 years
Improves ride quality
Provides a high-friction surface to ensure driver safety
Easy to install and is generally opened to traffic within an hour
Waterproofs concrete surfaces and resists commonly used chemicals that can destroy pavement
A Bridge Joint is an engineered space between segments of a bridge allowing for horizontal and vertical movement. Bridge temperatures change more rapidly than road temperatures due the lack of base under it and experience higher deflection and thermal movement at the joint while the two pavement surfaces expand and contract at different rates. Without bridge joints, the two different pavements would begin to destroy each other; even damaging the actual bridge structure as well. To prevent water and debris from entering bridge joints, they need to be sealed with an air-tight, waterproof, and flexible material. Matrix™ Bridge Joints, also known as asphalt plug joints, are good quality closed joint solutions for new bridge construction or bridge rehabilitation. Matrix Bridge Joints designed to installed using the Crafco Patcher II can be used for expansion, fixed end, and pressure relief joints. They are generally used for expansion + 1 inch (25 mm) of annual joint movement for skew angles up to 45°. They are often selected because (1) they are significantly quieter than mechanical joints, (2) provide a smoother ride, (3) are easy to install, (4) low cost to install, (5) low cost to repair and maintain, (6) low instance of snow plow damage, and (7) they can be installed segmentally so they are not disruptive to traffic flow.
USES:
For bridge joints in asphalt or concrete bridges with joint gaps up to 6 in (15 cm) and joint movement up to 1 in (25 mm).
Can be used for expansion, fixed-end and pressure-relief joints in new construction or rehabilitation.
Installed in skews up to 45 degrees.
Meets ASTM D6297 specification.
Benefits of using Matrix Bridge Joint vs other joint products
Low cost
Easy and quick to install
Smooth and quiet ride
Watertight
Maintainable
No compaction required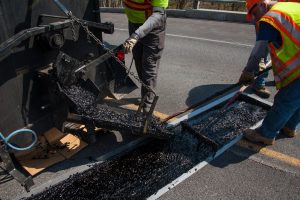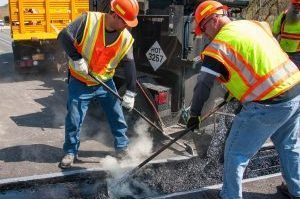 ** Price listed is FOB Denver CO not including applicable taxes or final destination charges.