SR-700 XP Trailer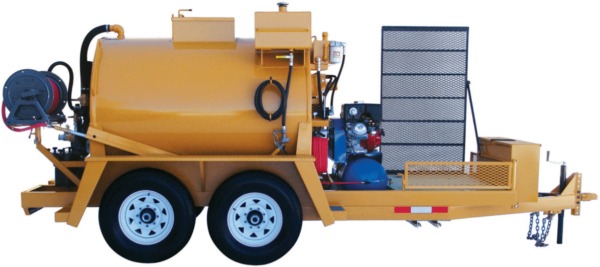 The sealcoating trailer has a 700 gallon steel tank with 7 gauge heads, 10 gauge sidewalls and reinforced tank ends. The SR-700 XP Trailer comes complete with our hydraulic agitation system and spray system so all you need to do is add sealer and go to work. This trailer also comes standard with our 29 Gallon Water Tank Assembly, 41″ Brush Box, Ramp/Gate, 9 Gallon Fuel Tank, Under-Tank Tool Storage and Enhanced Spray Wand Holder!
Product Description
700 gallon steel tank with 7 gauge heads and 10 gauge sidewalls
2 5/16" adjustable coupler with 20,000 lb. capacity, a breakaway switch and adjustable 26,400 lb. safety chains
Brush box
Enclosed tongue and front deck with removable swing open gates on each side for equipment storage
61" x 35" Ramp/Gate
29 gallon plastic water tank with 5 gpm Wilden air- operated, dual-diaphragm pump, 50' of hose and a nozzle
Flush-Out System that connects the water tank to the plumbing for easier clean out
30 gallon Jenny air compressor powered by an electric start Honda GX390 (13HP) motor
50' of air hose and a quick connect
Hydraulic agitation with infinitely variable speeds in forward and reverse, complete with a full sweep, four paddle agitation system with 3/8" thick rubber wiper blades on each paddle that rub the sidewalls for a cleaner tank
9 gallon fuel tank with 10' of hose and a nozzle
Two 7,000 lb. E-Z Lube torsion axles, both equipped with electric brakes and 16" load range E, 10 ply tires on 8 hole wheels
Extra wide fenders with tool storage behind the driver's side fender
Enhanced spray wand holder
25" gasketed manway with a sand grate, bag splitter, inner splash lid and lockable outer lid
2" Wilden air-operated, dual-diaphragm pump that can handle heavy sand/additive loads
3 gallon filter pot that reduces down time
Hannay 150' swivel mount hose reel, with 100' of 3/4" 300 psi hand hose and a 6 1/2' aluminum spray wand
Brake lights, running lights, a center light bar and a lighted license plate bracket
Bonus Features
The compressor also supplies air for your tires, allows cleaning of small cracks and runs pneumatic tools!
The front deck is large enough to hold (2) 13 HP Billy Goat Force Blowers!
These fenders won't sag, no matter how many people or bags of sand you put on them!
We build our trailers around our tanks. They are NOT utility trailers!
Some states consider these units equipment (not trailers) and do not require licensing – check your state's licensing requirements!
The side of the unit is blank so you can put YOUR important information on the tank!
Enclosed storage areas in front and back of unit are great for storing smaller items such as spray tips, wrenches, screwdrivers, hammers and caution tape!
If you buy a blower with your unit – we'll assemble it, throw in a complimentary Sur-Lock AND mount them on the front deck for you at no additional cost!