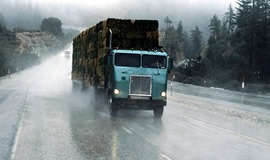 Pavegrip Hot Mix Adhesion Promoter is a high-performance asphalt anti-stripping agent that can dramatically improve adhesion and increase tensile strength.
Our producers see it as a cost-effective asphalt adhesion additive that is less than half the cost of hydrated lime, and adds value to their mixes by improving their performance.
Increases Tensile Strength Ratio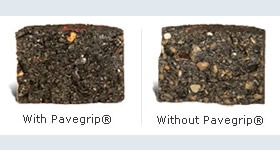 The photo of the core samples to the right shows an actual mix design with and without Pavegrip. It is apparent that the sample without the Pavegrip asphalt additive exhibits stripping of the asphalt cement from the aggregate. Stripping, or loss of adhesion, leads to premature pavement failures. As an anti-stripping agent for asphalt, Pavegrip asphalt adhesion additives dramatically improve adhesion and increases the tensile strength ratio of the mix.
High Performance = Cost Effectiveness
Pavegrip for asphalt maintenance is specially formulated to increase the lifespan of asphalt pavements. Industry studies have shown adhesion promoters can increase a pavement's quality lifespan by over 30%. This can be obtained by using as little as one half pound of Pavegrip per ton of asphalt mix. Tests such as AASHTO T-283, ASTM D-4867 or the Hamburg Wheel Test all show significant improvement when using Pavegrip in the mix design. Usual dosage is 0.5 to 1.0% of the weight of the asphalt in the mix. Pavegrip asphalt additives are also less than half the cost of hydrated lime.
Easy and Safe to Use
Pavegrip is a unique, high-performance, low-odor liquid with excellent heat stability that can be added directly into the asphalt cement. It can be added at the asphalt terminal or at a local hot mix plant. UNIQUE's technical engineers can help you determine the best method for your application or facility. This simple process eliminates product loss as well as lime dust contamination into the atmosphere.
Manufactured Under the Highest Standards
Strict quality control procedures are established for the entire manufacturing process. Our state-of-the-art laboratory analyzes each and every Pavegrip production run. These quality assurance practices ensure that every batch meets our high standards for quality and consistency.
UNIQUE Paving Materials has long been known for product performance, reliability and our reputation is one of the highest in the industry. UNIQUE's quality control process is designed
to provide you with a superior product each and every time.
Technical Assistance
All samples are taken from production runs so you can be sure that what you test in your laboratory is what we will deliver to your facility. Authorized UNIQUE representatives will help you determine the proper use and formulation for Pavegrip asphalt emulsions material. This support will help you design a longer lasting road. Pavegrip is manufactured in the USA and is an asphalt anti-stripping agent readily available in bulk, 250-gallon totes and 55-gallon drums for maximizing hot mix asphalt adhesion and performance.
Content provided by Unique Paving Materials Corp.