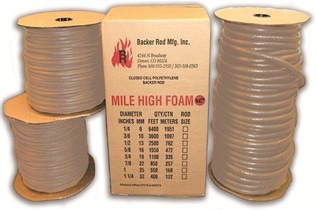 Mile High Foam XL™ is a resilient, cross-linked polyethylene backer rod used as a backing material for hot and cold applied sealants. Due to its chemical make up, it can take high temperature sealant installations.
Mile High Foam XL™ controls the depth of the sealant installation and ensures cross-sectional hour-glass configuration. No bond breaker is required. Product has been tested and passed the heat resistance requirements of ASTM D 5249 at a certified independent laboratory.
Specific Uses:
For use in highway joints, parking decks, runways, driveways, parking lots and saw cut expansion joints.
Limitations:
Do not puncture, over compress or stretch Mile High Foam XL™ during installation.
Composition and Materials:
Mile High Foam XL™ is a round, light brown, resilient, extruded cross-linked closed cell polyethylene backer rod with a water resistant outer skin. It is compatible with most known hot and cold applied sealants such as rubber asphalt, coal tar-rubber polymer thermoplastic compounds, urethane, silicone, acrylic, butyl, polysulfide and latex.
Compatibility:
Mile High Foam XL™ is chemically inert and will resist gasoline, oil, and most solvents. Product will not stain or adhere to sealants.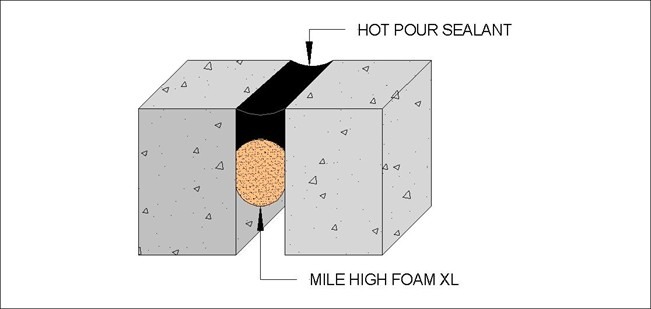 Physical Properties:
Density (nominal): 1.3 - 2 lb/ft³ ASTM D 1622
Compression Deflection: <15 ASTM D 5249
Compression Recovery: >90 ASTM D 5249
Tensile Strength PSI: >20 PSI ASTM D 1623
Temperature Range: −90°F to 410°F ASTM D 5249
Water Absorption: ‹0.03 g/cm³ ASTM C 1016 - Proc. B
Content provided by Backer Rod Mfg. Inc.