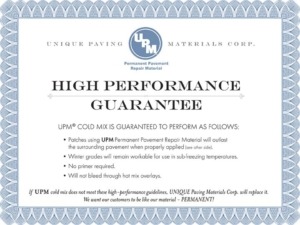 UNIQUE'S proprietary UPM® cold mix and stringent quality control procedures ensure that you get a cold patch asphalt solution that outlasts the surrounding pavement over 90% of the time. We guarantee it!
What is UPM® Cold Mix Asphalt Repair?
UPM® Cold Mix Asphalt Repair Material is a cold patching mix for municipalities, contractors and business owners to fill potholes and repair roads. Cold patch asphalt repair is a preferred method for patching potholes today because it's easy to use and doesn't require any heavy machinery. In fact, all you need is a shovel and a hand tamper. Use cold patch asphalt year-round on highways, roads, driveways and more. Winter, spring, summer or fall—UPM® Cold Asphalt Repair Material keeps working and stays workable!
Click Here to Learn Exactly How to Use UPM® Cold Mix!
Did you know UPM® cold mix asphalt patch can be used year-round for pothole repair? Find out the benefits of using cold mix throughout the year—Click Here
Not sure how much cold mix asphalt you need? Try our pothole and asphalt patching material calculator.
Some cold mix asphalt suppliers have falsely referred to their products as being comparable or equal to our  cold mix asphalt solution. However, none can match the high performance or success of the UPM® high-performance cold patch asphalt for pothole and asphalt patching repairs. Request a free sample of UPM® Cold Mix Asphalt Repair Material today to discover the difference.
The Worldwide Standard for Cold Mix Asphalt
UPM® Cold Mix Asphalt Repair material has been used to permanently repair large asphalt cracks and fill more potholes than any cold mix or cold patch asphalt product in the pavement repair industry.
View Projects Using UPM® Cold Asphalt Patching Material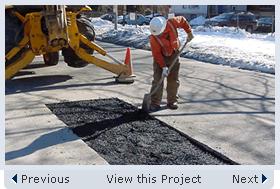 Visit our project gallery, and see UPM®cold patch asphalt in action as crews repair some of America's toughest potholes.
UNIQUE's UPM® High Performance Cold Patch Asphalt = Cost Effectiveness
If you've had to repair the same roads and potholes repeatedly, you know how frustrating and expensive asphalt repair can be. Since over 90% of all potholes patched with UPM® Cold Mix Asphalt Repair Material never need patching again, excess money is not poured into the same potholes.
All-Weather Workability and Dependability
Many asphalt patching materials fail in challenging weather conditions. Our customers love the fact that UPM® cold pavement patch for its year-round flexibility—and because it stays permanently in potholes.
Contact us today if you'd like to learn more about how to properly apply UPM® Cold Mix Asphalt Repair.
How Do Real Communities Use UPM® Cold Mix Asphalt Repair Material?
The Ontario Ministry of Transportation fixes potholes with UNIQUE's permanent cold asphalt repair material. Our polymer-enhanced cold patch asphalt remained "solid in place" on QEW at St. Catharines (90,000 cars per day) during a test period. Temperatures ranged from -19 C (-3F) to +21 C (+70F) during the test period. Watch the video to see how transportation crew members repair Ontario's potholes with cold asphalt.
Ready to get started? Find out how to use our cold patch asphalt to obtain the best results. Pavement patch and large crack repairs start with a properly cleaned base. Use the STIFFWITCH® road broom to prep your pavement before applying UPM® Cold Mix Asphalt Repair Material.